I should prefer to hear "Hari tum haro" spoken by Subbulakshmi than sung by others - Mahatma Gandhi
Popularly known as 'M.S' or 'MS Amma', M. S. Subbulakshmi is not only one of the greatest exponents of an ancient vocal music tradition of India that can be traced back to the Samaveda, she is also a Bhakti saint of the modern area.  Hers was an unselfish life completely devoted to Sangeetam, dharma, and danam. The divinity in her music transcended man-made limitations to touch the atmas of listeners all over the world.
Background
M.S. Subbulakshmi was born on September 16, 1916 to Subramania Iyer,  a Tamizh Brahman, and Shanmukavadivu Ammal, an immensely talented music artist hailing from the sacred Devadasi tradition of temple dancers and musicians. Her initials are derived from the ancient Tamizh city of Madurai where she was born, and her mother Shanmukavadivu.  Her musical journey began at home and her mother was her first guru. She learned to sing and play musical instruments, and her amazing skill level was achieved not by mastering the formal music sheets employed in the west, but through the distinct traditional Indian method of 'embodied learning' from Guru to Sishya. As MS recalls "My earliest interest in music was focused on the raga. I would try to reproduce the pipers as well as I could. My mother played and rehearsed constantly. No formal lessons, but I absorbed a whole wealth by listening and humming along with the veena." Her approach to music practice and training was like that of a Yogi. She was a child prodigy who received the blessings and instant admiration of virtually every leading Carnatic vocalist of that era who heard her sing. Her first song recorded at age 10 was in Tamizh, devoted to Lord Muruga, with her mother accompanying her on the Veena.
Her first public performance the same year at her Madurai school included a Marathi song. She never looked back and went from strength to strength, her god-given voice and talent enthralling audiences eveywhere, transcending language barriers.
In the 1930s she met Thyagaraja Sadasivam, a freedom fighter and artist who co-founded the famous patriotic Tamizh weekly Kalki. Sadasivam, the son of Tyagarajan and Mangalam Iyer, was deeply influenced by the Indian freedom movement, especially 'Lal-Bal-Pal' and Sri Aurobindo. MS shared the dharmic and patriotic views of Sadasivam, and the two were married in 1940. By all accounts, her husband played a positive role in her successful career, a fact that MS recalled when she was awarded the Bharat Ratna.
MS was a devotee of Kanchi Mahaswamigal and most of her royalties and earnings from music were given to charity. She had great concern for the people around her, enquiring about their health and their family, and graciously donating the amount received for her concert to any good cause that needed financial support. Humility was her adornment. Once her husband Sri Sadasivam quoted that she did not know how many ciphers followed number 1 for one lakh! If a child asked her casually to sing a song for him/her, she would sing without any hesitation.
MS Subbulakshmi's concerts all over India and around the world brought the sacred music of Carnatic to audiences that had heard mostly Hindustani classical from Indian musicians before. Some notable overseas concerts include:
Festival of Arts in Edinburgh (1963)
US fund-raising tour for the Flushing temple in NYC and the Pittsburgh temple (1977)
Carnegie Hall, New York City (1977)
Festival of India in London (1982) and Moscow (1988)
She started her movie career in 1938 with Sevasadanam, and acted in some memorable movies based on dharmic themes, including Sankuntalai and Savitri, where she played Narada Muni, which helped fund the nationalist magazine Kalki. She reserved the best for her last role in, and as the Bhakti saint Meera in Tamizh in 1945 (and later, in Hindi).
"In the Bombay Studio where the Meera score was recorded:, it was the same story. Artists who came for other recordings would stop by and become rapt listeners. A thin newcomer, two long plaits dangling behind, refused to record her song after the M.S. session." "Not now, not after that!" She went on to become a legend in her own right as Lata Mangeshkar, while continuing to remain a devoted M.S. fan" - Frontline (2004).
In 1963, the famous Venkatesha Suprabatam album was released, and this was soon followed by her famous concert in the UN.  Her sublime rendering of Vishnu Sahasranamam and Bhaja Govindam were released as albums in 1970. The Tirumala Tirupathi Devasathanam began broadcasting her Venkateshwara Suprabhatam in 1975 forever uniting the sacred verse with her voice. The Annamacharya Pancharatna Album (Telugu) was released in 1980. She gave innumerable charity concerts with the proceeds going to noble causes. Her last concert was in June 1997 and she never sang in public after her husband passed away later that year. Her selfless service to India, her Bhakti, and adherence to dharma without expecting anything in return, elevated her to the position of a saint in the eyes of many. She left her physical body on December 11, 2004, but her nishkama karma  will continue to be an inspiration for generations to come.
Achievements and Notable Awards
Asthana Vidwaan of Tirumala Tirupathi Devasthanam
Bharat Ratna (1998, first musician to receive this award)
Padma Bhushan (1954), Padma Vibhushan (1975)
Sangeet Natak Academy Award (1956)
Ravindra Bharathi Cultural Academy's Award (1967)
Isai Periaringar Virudhu, by Tamil Isai Sangam (1970)
Fellow of the Sangeet Natak Academy (1974)
Desikottama, Vishwa Bharati University at Shantiniketan (1981)
Kalidas Samman, Government of Madhya Pradesh (1988)
Swaralaya Puraskar (1997)
Legacy
MS started and ended the daily cycle of activities in Southern India. Her Kaatrinile Varum Geetam is the earliest song in my memory, in a mother's comforting voice as her child sleepily dozed off into the night, to wake up the next morning to Kowsalya Supraja Rama Poorva Sandhya Pravarthathe.. from her Venkatesa Suprabatam. MS Amma thus became an integral part of many Indian families in this endless cycle of night and day.
MS Subbulakshmi was universally recognized by admirers and critics alike as an outstanding singer of Carnatic music and devotional songs.  She was noted for her precision in pronunciation; a crispness not only in Sanskrit, but any language in which she sung. While the aesthetic heights, Shruti Suddham, diction, and effortless genius of her singing have been explained by Carnatic aficionados and music connoseiurs, the sacredness and divinity in her songs can be experienced by everyone.  What do I care of technical excellence when the bhava and depth of her Bhajans shreds through all my carefully acquired layers of false projections and reconnects to the divine latent within? For me, to hear MS Subbulakshmi sing is to feel a stirring sense of bhakti, but the voice i hear within me belongs to my mother.
"What is this almost transcendental quality behind the unfailing rapture? ... Many would attribute it to the Indian Bhakti tradition of poetry and song to which the singer belonged...The Bhakti polarities of seeking and finding, loss and conquest, desire and fulfilment are realised in their verses." -Frontline (2004)
***  Adi Sankara's Bhaja Govindam ***

In the 1940s, MS retraced the journey of Meera before she enacted that role in one of the greatest Indian motion pictures ever made. When she sang in the praise of Giridhara Gopala, the listeners were thrilled, be they king, prime minister, or commoner. Those who heard MS Subbulakshmi sing in praise of Krishna during this pilgrimage regarded her as the reincarnation of Meerabai. I visited Chittorgarh earlier this year to pay humble tribute to the heroic Indian women and men who resisted the tyranny of invaders and conquered even death in that process. There is also a mandir of Meera, who, through her Bhakti, defeated the tyranny of ego and secular materialism that invades our sacred realm.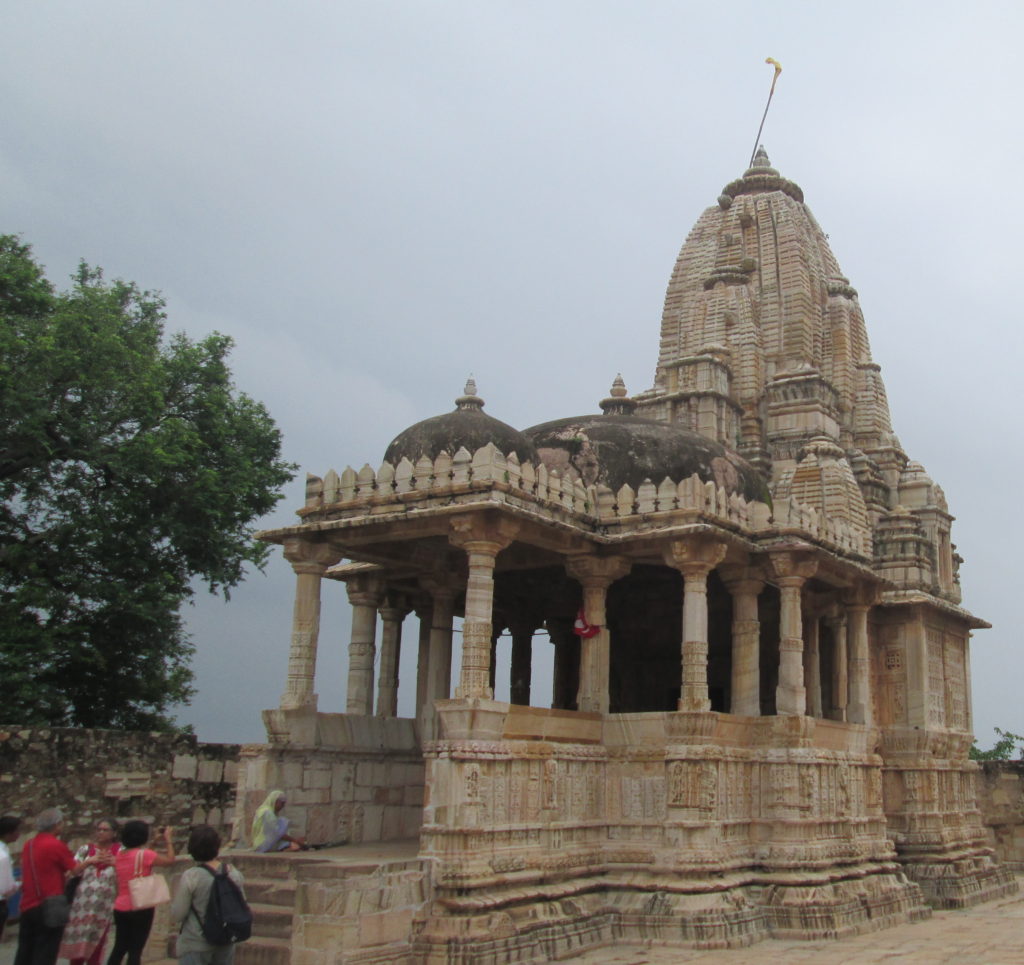 MS sang there too. 'Kalki' Krishnamurthy recorded the events that transpired that day:  "Among the ruins a single structure stands unscathed, its loveliness undimmed. This is the Krishna shrine built by the Rana of Chittor for Meerabai, to grant her request during the (happy) days of their married life before he turned against her. When Subbulakshmi sat in the Lord's sanctum and sang the songs of Meera, every one of us had the same thought: Meerabai had sung the same songs from the same spot in rapturous devotion! M.S. shed tears as she sang. Everyone had moist eyes. Most remarkable was the sight of the old, half blind temple priest, going off into a sudden trance, clapping his hands in rhythm to Meera's songs."
Thus when she was young, MS was already a living saint in the minds of many in Northern and Southern India. And that is a most simple and natural Indian way to 'sainthood', not by marketing and institutional certification post-mortem. Her mystical, youthful beauty as princess Meera was akin to a 'Kovil Silai', and captured on-camera by Ellis Dungan. She made famous the blue Kanchipuram saree, which became popular as 'MS blue'.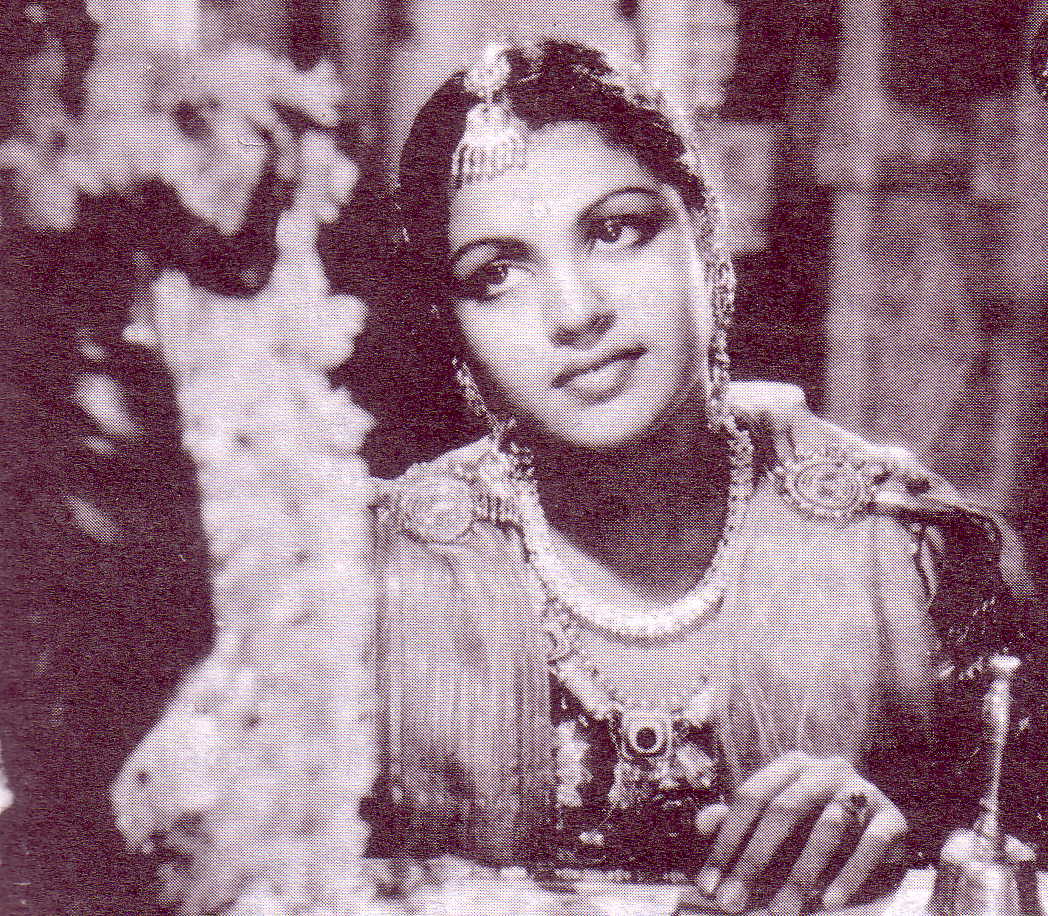 Her fame spread far and wide after concerts all over the world. When she sang Maitreem Bhajata composed by Kanchi Mahaswamigal, at the United Nations during the height of the cold war in 1966, she shared Hinduism's ancient and universal message of mutual respect and harmony with a global audience – perhaps the most powerful, sincere, and profound anti-war and dharmic message ever put to verse and sung on a global modern stage.  When she sings Kurai Ondrum Illai..  composed by Rajaji: I have no regrets, O Lord Venkateshwara, even if you are in a place where my mortal eyes cannot reach…, the divinity and Bhava simultaneously overwhelms and comforts the Rasika.
The power of her singing is such, we feel that additional accompaniment or harmonies only detract from the pure, integral unity of the sacred song. This unity, which is a salient feature of Indic traditions, is a reason how a simple Tamizh girl from Madurai could authentically and confidently re-enact Meera of Rajasthan.
She was not acting like Meera. She was Meera reincarnated who bridged the north-south divide fabricated by colonialism. Questions like "Why are you making this film in the Madrasi language? Why not in Hindi?" quickly dissolved into admiration and wonder. The quintessential Tamizh song 'Kaatrinile' in that movie, which is deeply embedded in the hearts of millions of Tamizhs is inspired by bhajans from Bengal.
The Bhakti movement that originated in the Tamizh land several centuries ago and reached Rajasthan and all other parts of India came back to Tamil Nadu via 'Meera'. That was her last movie, and what a way to sign off the big screen. MS aged gracefully, her beauty undiminished, carrying herself with a charm and poise that only a true Yogi and Sattvic lifestyle can achieve. When MS finished her concerts, large sections of the audience, young and old, did their namaskarams to her, recognizing an enlightened atma – the youthful saint who became MS Amma.
**Documentary on MS**
"

Every citizen of this great land is a Ratna." - MS Subbulakshmi
References:
http://www.msstribute.org/
 http://www.dnaindia.com/analysis/report-m-s-subbulakshmi-why-this-legendary-musician-is-like-no-other-2185036
https://www.theguardian.com/news/2004/dec/17/guardianobituaries.india
http://www.thehindu.com/fr/2004/09/17/stories/2004091702890600.htm
http://www.frontline.in/static/html/fl2126/stories/20041231006400900.htm
'M.S.Subbulakshmi – A Divine Maestro', by K.S. Mahadevan.
'Following MS around the country', by C. Ramakrishnan
http://www.thehindu.com/fr/2004/12/17/stories/2004121700410500.htm
http://www.thehindu.com/2004/12/12/stories/2004121215950100.htm
Acknowledgment
Thanks to the amazing n.r.i. pathi for his pointers, data, editing, and feedback.