source @prasarbharati

Introduction
Field Hockey is India's national sport and Dhanraj Pillay (தன்ராஜ் பிள்ளை), between 1989 and 2004, represented Indian hockey with distinction and passion. The story of his rise from a most humble background to become the world's most recognized hockey player at his peak is inspirational. More than any other sportsperson, a study of Dhanraj Pillay's personality on and off the field offers valuable insight into the Indian sporting scene of that era.
"Dhanraj's career has been intimately interwoven with India's victories and defeats in the last two decades. His failures were India's failures and his triumphs were India's triumphs." - Ric Charlesworth, foreword to Dhanraj Pillay's biography.
A main source of information for this post is Sports Journalist Sundeep Misra's independent biography of Dhanraj Pillay. This book is a must-read for all supporters of Kreeda for it is as much a story of Indian men's hockey as it is of Dhanraj Pillay.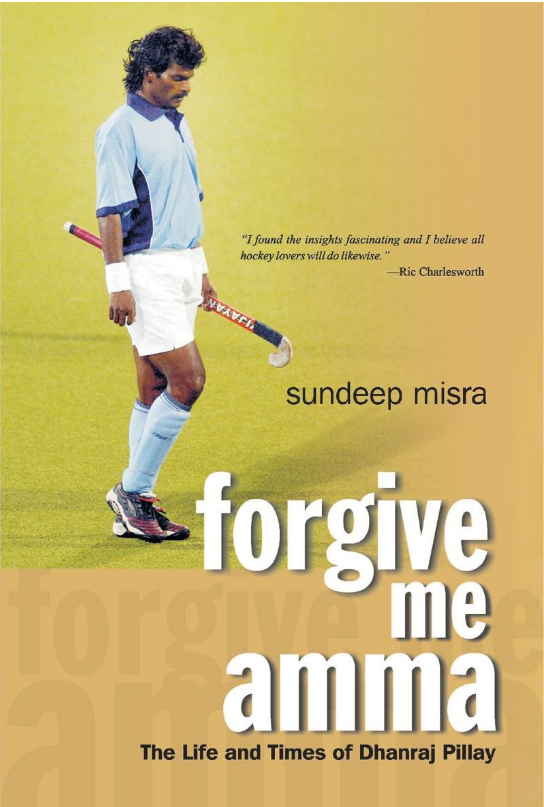 Early Life
Dhanraj Pillay was born on July 15, 1968 in Khadki, Maharashtra near Pune in a Tamil family. His mother Andalamma and father Nagalingam worked hard to keep the household going. His father was employed by the nearby ammunition factory. Life was tough for Dhanraj, the youngest of four sons. He was not academically gifted although his teachers at the Sugra Vilasi Sabha school recall a student who quietly listened to their scolding and never talked back. Khadki had a strong local tradition of hockey and soon, a young Dhanraj would tie up broken sticks with gunny bag string and glue them together to fashion a working hockey stick and play. His academic grades were poor but 'Dhan' was a born athlete. Few then realized that the same Dhanraj would, one day, in India colors, slice through oppositions like a toofan on the hockey field.
First Break
The story is that Dhanraj got the first major break in his hockey career through Vidhi. Dhanraj got into a local fight during the Ganapati festival and felt that the police there may be looking for him. At this time his brother Ramesh who worked in Mumbai wanted him to come there, and Dhanraj was only too glad to oblige. His brother played hockey for a club, and his team was a player short and Dhanraj's name was added as a sub. He was immediately noticed, and soon, he was playing for Mahindra & Mahindra thanks to coach Joaquim Carvalho, and joined them as a Jr. Assistant. By 1987, he made his name at the national level. He represented Bombay in style, winning the nationals, and was penned down in the list of probables for the Asia cup in 1989. Dhanraj Pillay made his international debut against China in December, a month after the debut of another sportsperson from Maharashtra, Sachin Tendulkar. Both went on to have the longest careers in Indian colors in their respective sporting disciplines. Sachin played Six World cups and 200 Test Cricket matches while Dhanraj competed in four Olympics, World Cups, Champions Trophy, and Asian Games.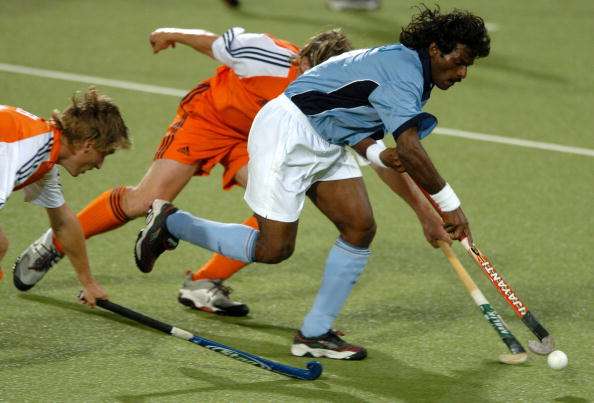 Toofan: Early International Career (1989-94)
Dhanraj made his presence felt on the field in the 1990 Asian Games in Beijing with his speed and skill. His outspoken nature also became evident when he questioned the selection of an injured player of repute. Dhanraj himself feels he grabbed a regular position in the Indian team due to his success in a European tour before the 1992 Barcelona Olympics, winning the man of the series honors against England. Dhanraj enjoyed his first Olympic experience in Spain and recalls meeting tennis stars Monica Seles and Stefan Edberg in the Olympic village.
Within four years of his debut, Dhanraj cemented his place in the Indian team. At his best, none could beat him when it came to speed-stickwork-stamina as he raced downfield sporting his shoulder-length hair style. He captured the imagination of hockey fans inside and outside India. In the 1994 World Cup in Sydney, the highly rated Dutch team had to physically stop him several times and eventually walked away winners in a close contest. This was the first of many international tournaments in that era where India would play the most artistic, skillful, and eye-catching hockey but fall short when it came to the final scoreline. At the end of his first World Cup experience, an already fit Dhanraj realized the value of taking that fitness to a higher level. His quality and skill attracted the attention of top European hockey leagues, and his experience there further honed his on-field ability.
Hockey Superstar Dhanraj Pillay (1995-2000)
Dhanraj Pillay was at his best during these years.  Three tournaments in particular are worth a deeper look. One took Dhanraj to a peak of success and mass popularity, while the other two brought ultimate despair.
1995 South Asian Federation (SAF) Games Final
"It has been a dream of every hockey fan to see Dhanraj in full flight. That evening, whoever was inside the stadium would never forget the class of Dhanraj Pillay" -Sundeep Misra.
December is a peak of the traditional Kutcheri season in Chennai. Rasikas from all over the world converge to listen to India's divine Carnatic Sangeetam. In the December of '95, a young maestro held his own concert in the hockey field at Mayor Radhakrishnan Stadium.
India vs Pakistan, the reigning World Champion. Pakistan had a star-studded line up including the brilliant Shahbaz Ahmed and Tahir Zaman. The stadium was house-full long before the match started packed with cheering locals. Thousands more waited outside trying to sneak in. Dhanraj did not disappoint them. He was on fire that day, showing an ability to clinically finish in addition to precision passing, perfect teamwork, on top of his trademark speed and skill. Cheered loudly by the Chennai crowd, he scored a hat-trick to defeat the World Champs. Final score line: 5-2. This was the stuff of dreams.  Dhanraj may have been born in Maharashtra but that day he was 'Enga Veettu Pillay', another superstar who made Indians and Tamizhs proud. Dhanraj himself recalled that match decades later, noting how he was always marked for physical treatment by the Pakistani defenders who feared his speed and skills (Pakistani coach's order to his players: "'woh kaale ko pakdo"). Dhanraj's international career truly blossomed after this success.
1998 Commonwealth Games Semifinals. Kuala Lumpur.
The Commonwealth games was another golden chance for India to win an international hockey medal. India was pitted against the hosts in the semifinal and it should've been a relatively easy task to beat Malaysia. Sundeep Misra notes the Malaysian fan's respect for the Indian team that won the 1975 World Cup there. Also, hockey fans among Malaysia's sizable Tamizh population showed up in large numbers. The stage was set for Dhanraj and India. Inexplicably, India lost that match as well as the Bronze medal playoff afterward.
Tom Alter, Indian actor and hockey fan, summed up the performance of the Indian hockey team and its captain in this fine piece of sports writing. India should have won this match hands down (8-0 per the Aussie coach) given the exquisite quality of play that totally outclassed the opposition. And yet they lost:
"India played 75 minutes of the most beautiful hockey you will see played in your lifetime – 75 minutes of art and skill and speed and stamina... the gods are unbelievably cruel – to allow a team to promise so much, and then snatch away from them the victory they so fully deserved.
Who knows this better than Dhanraj Pillai, captain of the Indian hockey team. Lying flat on his back, arms flung wide, eyes closed in unbearable grief and fatigue. That one image of Dhanraj stretched out on the pitch tells a story so personal and so universal. Of one man's pride and passion being humbled by the whims and fancies of the gods.
The next day he rose again to play England in the bronze medal game, and in one breathtaking move, Dhanraj Pillai dodged seven – yes seven – English players in the 'D' before sprawling in the cruelest of dives in front of the English goal, the ball going wide. And, of course, India did not win the bronze. India was simply the second-best team in Kuala Lumpur, and we did not even get the bronze."
This was not all. Sundeep Misra records a shocking event that occurred in this India-Malaysia match. It appears that the Indian Hockey Federation Secretary and fellow Tamizh Jothikumaran barged into the team meeting at half-time and angrily blamed captain Dhanraj Pillay for missing too many chances. This upset the captain no end, who hit back with the choicest Tamil abuses before hurling his India shirt and stick down in frustration and despair. One need not imagine the impact on Dhanraj's and the team's performance in the second half. What were Jothikumaran's reasons behind this bizarre half-time provocation? Has anyone asked this question in public? In 2008, Jothikumaran was caught on camera allegedly accepting bribes and quit in disgrace.
Why does this tragic scene of officials humiliating athletes replay again and again? When will the public take to task India's mediocre hockey administrators who just keep changing head-coaches while clinging on like limpets themselves? How could Team-India be expected to perform consistently within such a setup?  Foreign coaches knew exactly how to beat India. Korean coach Kim Sang-Ryul whose team would be India's nemesis two years later in Sydney pinpointed India's fundamental weakness in 1998 (ref: Sundeep Misra's book). The statement also reveals how Indian hockey can become world-beaters again:

Yet, if we momentarily set aside the all-important team goal of winning matches, we can read Sundeep Misra quoting a German fan who wished that his team would be the World Champion while playing the Indian style of hockey- Indic Hockey. Hidden here is the story of how Europe mechanized hockey and eroded its artistic value for short term gain. Hurriedly bringing artificial turf into the Olympics and thereafter spearheading a slew of rule changes that all but killed the original beauty of the sport and alienated large sections of hockey's diverse fan base. Results aside, India was a team and Dhanraj the star that fans worldwide still turned up to watch.
2000 Sydney Olympics. India versus Poland. Final pool match.
26th September, 2000. India had already done all the hard work, playing exceptionally well against all the top teams in their group-B pool matches, beating two solid teams- Argentina and Spain and drawing against powerhouse Australia, with a sole loss to Korea. The Indian contingent was on a high, knowing that a win over the low-ranked Poland team would guarantee them a place in the semifinals. Poland was already out of contention for the medal rounds. Man for man, Poland was no match for the Indian team. For Dhanraj, an Olympic medal would be the perfect reward for an amazing 12-year career. This was India's best chance of winning an Olympic medal in 20 years after the Moscow edition of 1980 under the captaincy of their coach V. Bhaskaran. In fact, it would've been a bigger achievement since that 1980 field hockey competition was completely diluted after 9 of the 12 qualifying nations, including all top teams that belonged to the Western bloc, withdrew.
As a small boy, I heard in Radio that India won Gold medal in Hockey at 1980 Moscow Olympics. It remains India's last Olympic medal in Hockey. I'm deeply touched as Vasudevan Baskaran, the captain of that glorious Indian Hockey Team came to meet me with that Olympic Gold Medal? pic.twitter.com/Nn6cIrB0iW

— Kiren Rijiju (@KirenRijiju) September 7, 2019
Nine times of ten, India would've beaten Poland but no European team ever beats itself.  Sundeep Misra describes the sequence of events in vivid detail. India missed many chances in a goal-less first half but eventually went up 1-0 thanks to a 53rd minute goal via a Dhanraj pass. The last ten minutes of the match produced the stuff of nightmares for every Indian hockey fan. Team-India's mental fragility became evident when a completely unnecessary yellow card infraction reduced India to 10 men in the 59th minute, forcing them into defense. Poland played smart hockey and began to attack. Not staying in the moment and looking too far ahead before the match was even played was costing India.
Despite all this, Team-India was within a minute of sealing the match. Dhanraj recalls that the Korean team watching from the stands left the stadium believing that they were eliminated -only to learn later that India conceded a 69th minute goal. Indian goalkeeper Jude Menezes will forever remember the sound of ball hitting board. Despite Dhanraj's last minute desperate heroics where he almost scored, India was out of time and luck. The match ended in a 1-1 draw. India knew before the match began that a draw would be insufficient. It tied Korea on points and goal differential, but were eliminated as their sole loss came against them.  Team India, and Dhanraj in particular, was devastated. Sundeep Misra captured those poignant moments after the match for posterity and no Indian sports fan who reads his words will be able to forget them.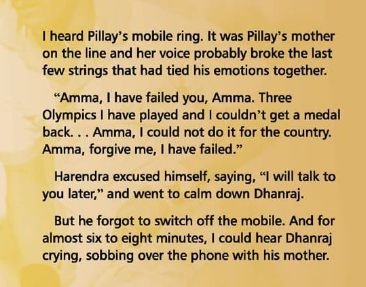 "… Dhanraj, the player, who would trade away his 12-year old career for a shot at an Olympic medal! In that moment, I saw the entire spectrum of Indian sport in front of me. Indian sports officials shopping in Sydney while Pillay held on to his dream, match after match.
I saw an Indian official wearing an Indian Olympic blazer scalping tickets of the India-Poland match. And I saw Pillay carry on match after match.
I saw the Indian Hockey Federation officials taking the Olympics as a free trip abroad, dining and eating at the best places, while Pillay kept his dreams alive.
Today while Pillay shed tears, trying to pick up the pieces of his golden dream, there was nobody there, except for Harendra and a mobile phone….
When those dreams shatter, you cry alone".
Decades later, the pain still lingers in Team-India.  Dhanraj is not off the mark when he blames politics and officialdom for the loss.
"that one minute haunts each of us even today" – Vasudevan Bhaskaran, coach.
"It was one of the best teams India has ever had. And we were all on top of our games, playing beautiful hockey. But all we are remembered for that last-minute collapse against a team with virtually no hockey history." -Jude Menezes, goal keeper.
"That name, Sydney, will always be a scar. I don't think I will ever get over it. And as time goes by, it will probably get worse" – Dhanraj Pillay.
Perhaps this September memory will fade away when Indian hockey wins an Olympic medal again.
A Storm Blows Over (2001-2004)
Despite the Sydney heartbreak, his fitness, skill, and a hunger to represent India pushed Dhanraj to play on for many more years and make significant contributions. He would go on to win individual laurels in international events, but a major trophy outside Asia continued to elude the team. Dhanraj Pillay retired after one final shot at Olympic glory in Athens, 2004. His career finished in acrimony, fighting India's petty hockey administrators to the bitter end. A newly hired Videshi coach named Gerhard Rach deliberately benched Dhanraj Pillay, India's greatest player in a generation, in his final international game. This was a relegation playoff for the 7th-8th place with Korea. India was comfortably leading  in the 58th minute when a player got injured. Rach played Dhanraj but did not let him finish the last ten minutes. Instead, he took Dhanraj off the field after 90 seconds.  August 27, 2004 was Dhanraj's last day in Indian colors.
"I pray to God that no player goes through the things I faced after fifteen years of service to the country" – Dhanraj Pillay the toofan, signed off.
The Indian men's hockey team did not qualify for the 2008 Olympics. Dhanraj continues to be associated with India's national sport after retirement. He remains optimistic about Team-India's success in Olympic hockey to this day. The men's hockey team is ranked #5 at the time of the writing of this article.
The 2020 Olympics in Tokyo will mark 20 years since Sydney-2000 and 40 years after Moscow-1980. The Hockey Qualifiers for the Tokyo games involving India will be hosted in India between November 1-3, 2019. The draw will be announced in a day (September 9) live on the FIH Facebook page.
About Dhanraj
Those who've played hockey at any level would know how difficult and physically demanding the sport is. A key feature of Dhanraj Pillay was his sustained speed with the ball. This article records Dhanraj's incredible pace, covering 100m in 11.6 seconds while moving the ball forward. Sundeep Misra has noted the observations by international players, fans, and sports journalists about Dhanraj Pillay's game and approach.
Sukhbir Singh Grewal, Asst. Coach, Indian hockey team, 1992 Barcelona Olympics: when it came to speed, skill, and endurance, Dhanraj was the best of his generation.
Dr. Richard Charlesworth: As an outstanding player of his generation, Dhanraj had most of the qualities of a champion – speed, wonderful movement and fluency, quick and deceptive stick-work, play-reading ability, courage and intense passion for the game.
Balbir Singh Sr (triple Olympic gold medalist): a super star whose career has been interspersed with brilliant performances and unseemly scenes. It is for the readers to decide whether they want their wards to be crowd-pullers or medal-winners.
S. Thyagarajan (Deputy Sports Editor, The Hindu newspaper): Dhanraj is a character who cannot easily be showcased in a straight-jacket. He is beyond definition, complex, controversial, inexplicably humane on occasions, clearly confounding admirers and critics alike.
Sundeep Misra offers several views of Dhanraj after closely covering his career from start to finish.
"All he wanted was respect".
"nobody could play for India with the kind of passion and devotion that Dhanraj displayed".
"He was still their hero. Dhanraj Pillay was the player everybody came to watch" – Athens Olympics, 2004.
International Timeline: December 1989 – August 2004.
International Games – 339
International Goals-170
Olympics- 1992, 1996, 2000, 2004.
World Cup- 1990, 1994, 1998, 2002.
Champions Trophy- 1995, 1996, 2002, 2003.
Asian Games- 1990, 1994, 1998, 2002 (also Asia cups).
Winning Captain: Asian Games – 1998, Asia Cup – 2003.
Captaincy Record: Played 66, Won 33.
Top Goal Scorer for India: 1994, 1996, 1998.
Player of the Tournament: Champions Trophy, 2002.
Awards
Arjuna Award (1995)
Rajiv Gandhi Khel Ratna (1999)
Padma Shri (2001).
Bharat Gaurav (East Bengal Football Club, 2017).
The Inner Field
Some coaches and former players have commented on the one missing piece in Dhanraj Pillay's game – mental poise and equanimity. That this deficiency also characterized many other Indian internationals indicates a systemic problem. Sundeep Misra points out some famous names that shied away from the responsibility of taking the strokes in high-pressure penalty shootouts. In limited overs cricket too, until the Mahendra Singh Dhoni era, Indian stars generally preferred to make their runs up the order rather than willingly put their hand up at the death where there is no place to hide a failure and opportunities to shine are infrequent.
Virtually every top professional sportsperson including hockey players have stated that team sport at the highest level is a mental game as much as it is physical. A good team invariably has a core group of 'team-first' leaders blessed with a level-headed situational awareness. This helps in establishing trust and self-belief within the team, the magic grease that ensures that all moving parts synchronize to exhibit a united grace under pressure.
Sundeep Misra's book covers so many instances of India displaying the highest skill and fighting spirit but losing tight matches, either failing to defend the last few minutes (like Sydney) or squandering tons of scoring opportunities (like Kuala Lumpur). All point to a lack of mental poise and coherence. He remarks: "Mentally, it was always seen, they could never lift themselves into winning positions. The most amazing part was that the IHF knew that this was a weakness, but no trainer or psychologist with the experience of working with top outfits was employed to actually work with the team. Sadly, all the psychologists who came and worked never understood the team and were found wanting in their own work areas." Ironically, none have pursued the inner science of consciousness and understood the nature of its unity deeper than our Indian seers.
Desired outcomes are not guaranteed in life. But we can follow the Gita and replace the myopic objective of chasing outcomes with a transparent and relentless focus on getting the process and preparation right. Then we can expect consistent performances from an Indian team playing Indic hockey without sacrificing its traditional artistry. At its peak, India won the hockey gold and entered the football semi-finals in the 1956 Olympics. We pray to the Kreeda devatas that our dream comes true and Indian hockey rises again to reach its moon.
References
Forgive Me Amma: The Life and Times of Dhanraj Pillay. By Sundeep Misra. 2007.
My Olympic Journey: 50 of India's Leading Sportspersons on the Biggest Test of Their Career. By Digvijay Singh Deo and Amit Bose. 2016.